In the lush hills of Rwanda's Rulindo district, a transformational project titled "Agroforestry for Livelihoods" is silently weaving its magic. At the heart of this initiative there is Jacqueline Kagoyire, a spirited woman determined to make a difference. ARCOS chosen her as one of the beneficiaries of the project, and it is turning her life around in ways she could have never imagined.
Since 2020, Jacqueline has been growing trees on three parcels of her farmland, embracing the concept of agroforestry. The once barren land now flourished with agroforestry, fruits, and woodlots, thanks to her dedication and the guidance of ARCOS. "The project has given us hope for a prosperous future," Jacqueline said with a smile.
Back in 2016, ARCOS established the "Umusave Fund" to empower communities and uplift their livelihoods by financing their small green projects. Jacqueline and her Friends of Nature Associations (FNA) composed of a dozen of colleagues, had applied for this grant in November 2022, and to their delight, they were awarded $500. With this newfound funding, they ventured into a new endeavor—pig farming, a venture as promising as the golden sunsets over their lands. Today, having successfully sold some of their pigs, they now proudly manage 2 mother pigs and 11 lively piglets. Their journey has been a testament to their hard work and determination, as they continue to thrive in their endeavor.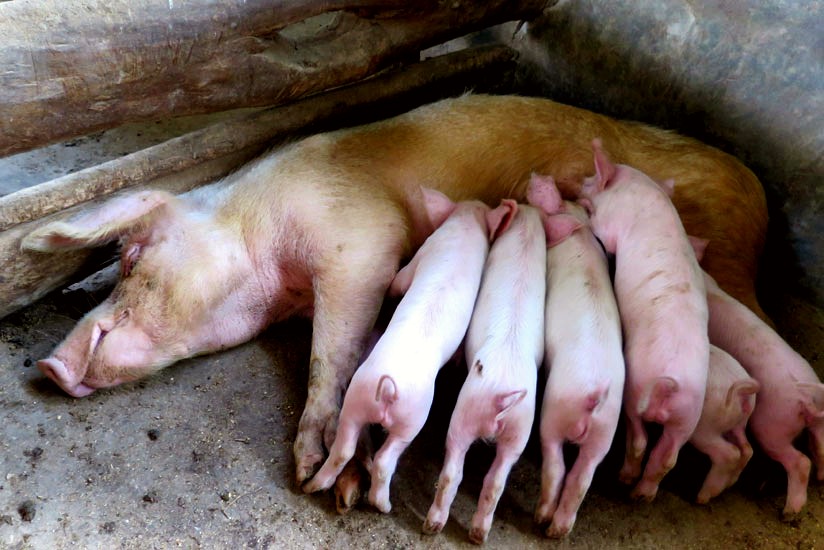 The once vegetable farmers are now pioneering a new chapter in their lives. "This is a game-changer," Jacqueline exclaimed, her voice resonating with determination. She knew that the manure obtained from the pig dung would boost their agricultural produce, doubling their turnover.
Jacqueline's excitement wasn't solely about profits; it was also about empowering their dreams. With a glint of hope in her eyes, she shared, "This project is helping us pay for our children's education and improve our livelihoods. The new pig farming venture will also grant us a seed capital for future endeavors." The sense of possibility and empowerment filled the air as her neighbors nodded in agreement.
The "Agroforestry for Livelihoods" project had taught Jacqueline and her community more than just planting trees; it is sowing the seeds of self-reliance and sustainability. "We are deeply grateful to ARCOS," Jacqueline said, heartfelt gratitude lacing her words. "They didn't just help us restore our land; they believed in us and our potential. They financed our dreams."
As the days passed, Jacqueline's pig farming flourished, and their community thrived. The project not only enriched their lives but also brought them closer together, like the roots of the trees they had planted. Jacqueline's journey from a hopeful beneficiary to an empowered entrepreneur was a testament to the enduring impact of thoughtful initiatives.
Through the lenses of progress, Jacqueline saw a greener, more prosperous Rwanda, with her community at the forefront of this.