Bugesera, Rwanda, 22 June 2022. On his visit to Rwanda for the occasion of The Commonwealth Heads of Government Meeting (CHOGM), His Royal Highness The Prince of Wales paid a visit to one of ARCOS' sites to witness a collaborative landscape restoration for climate resilience in Rwanda.
For many years, The Prince of Wales has been dedicating his efforts for the fight against climate change and biodiversity loss. In that context, His Royal Highness The Prince of Wales has established the Circular Bioeconomy Alliance (CBA)— under his Sustainable Markets Initiative-to accelerate the transition to a circular bioeconomy aiming to place nature and people at the heart of a global circular bioeconomy.
Since 15th June 2022, ARCOS became a member of the CBA, with the aim to facilitate the integration of a circular bioeconomy in its focal landscapes. ARCOS' approach in landscape restoration involves communities through a long-term partnership cemented by the Sustainability Agreement using an integrated approach to restore degraded ecosystems and enhance human well-being.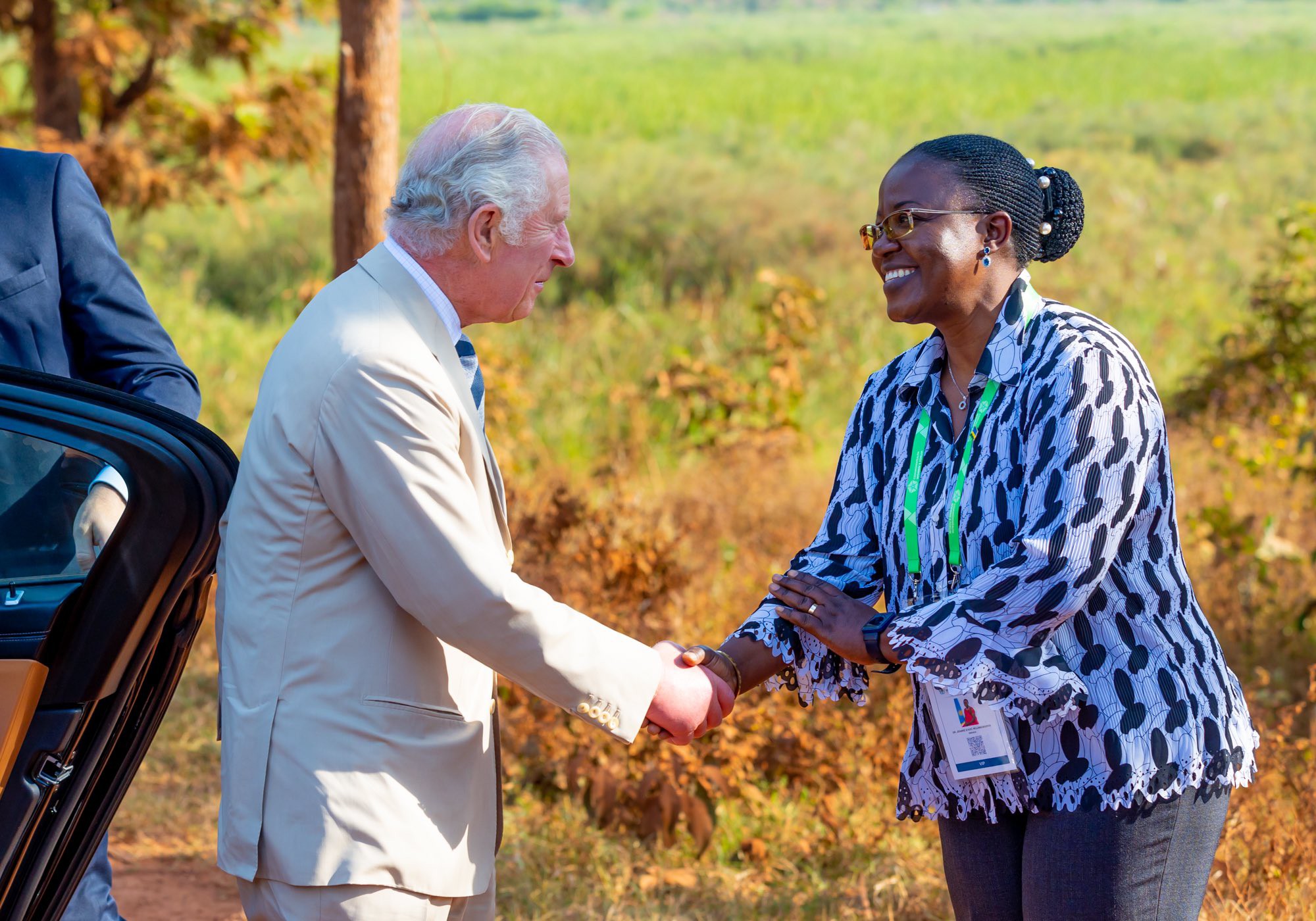 Hon. Dr Jeanne d'Arc Mujawamariya, Minister of Environment, receiving HRH Prince Charles.
His Royal Highness was welcomed by Hon Minister of Environment, Dr Jeanne d'Arc Mujawamariya, together with ARCOS' Executive Director, Dr Sam Kanyamibwa. "Landscape Restoration is a major priority for the government, and we value the role of communities as well as the contribution from Civil Society Organisations," Said Hon Minister. "For over 20 years, the district of Bugesera experienced deforestation, severe drought and other climate change effects that led to extreme food shortage, loss of biodiversity and water resources across many freshwater ecosystems including Lake Cyohoha North. The remarkable results we see on this site need to be replicated". She added.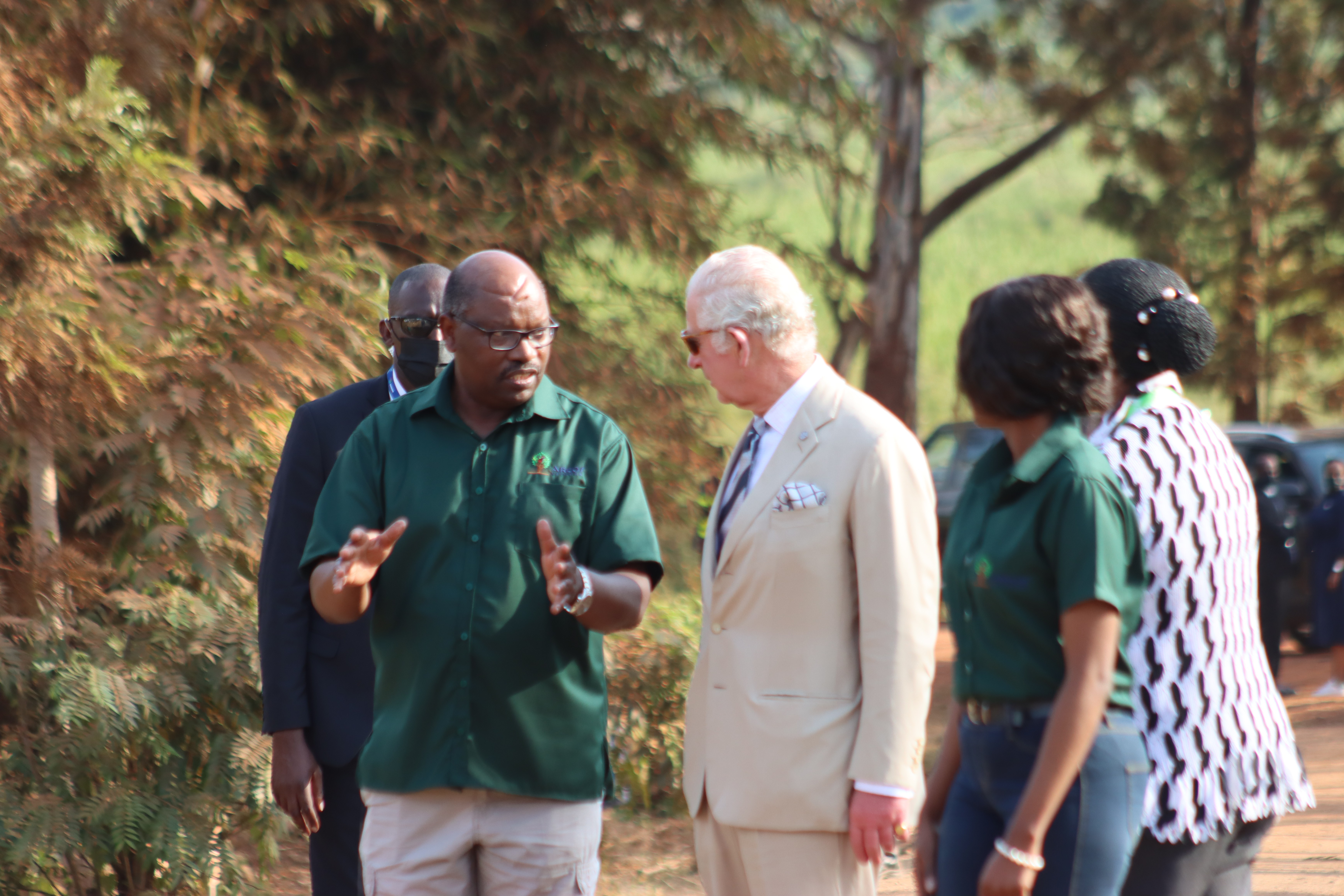 Dr Sam Kanyamibwa, ARCOS Executive Director, explaining HRH Prince Charles how ARCOS is working communities in Landscape Restoration.
Dr Sam Kanyamibwa gave a general overview of ARCOS, then His Royal Highness visited a tree nursery managed by a local community cooperative. He was impressed by the diversity of tree species produced—including agroforestry, fruit and indigenous tree species— and the inspiring knowledge and skills of farmers in tree nursery development and management. "I am fascinated by all of these species, do they all have different properties? You have to protect them with shade."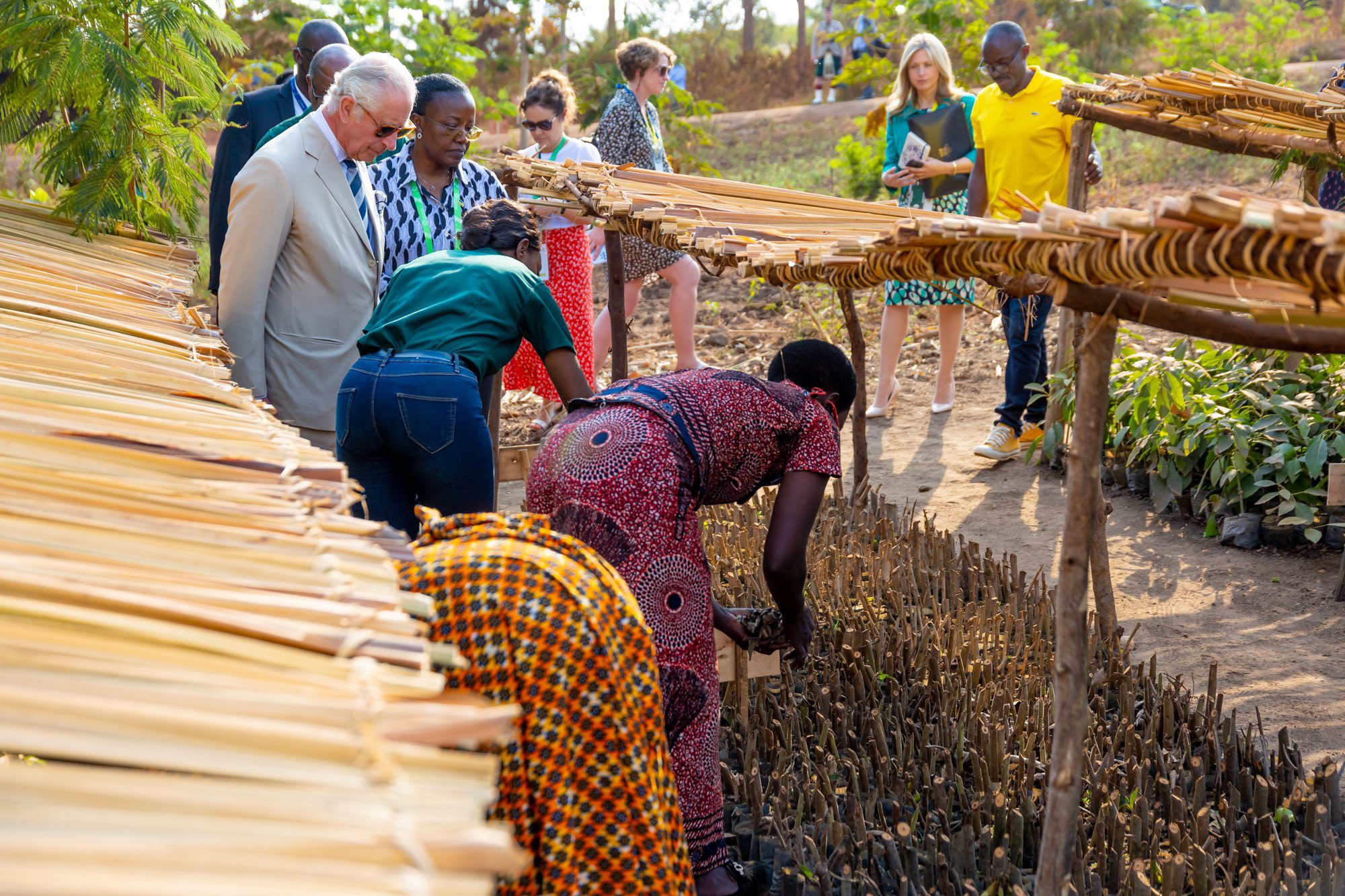 HRH The Prince of Wales witnessing community knowledge in tree nursery management.
His Royal Highness appreciated that the community integrate indigenous tree species in the nursery as well as in their farms which is an important aspect in landscape restoration.
A farmer cooperative KOIMIZANYA (Koperative Imizamukire Nyagihunika) operating in the visited site, is among the 730 community groups working with ARCOS. "Before partnering with ARCOS in 2015, we used to have destructive activities in the wetland, but after being trained by ARCOS, KOIMIZANYA adhered to sustainability practices and supported ARCOS' efforts to involve all communities in participatory landscape restoration at cell level". Said Jean Bosco Murenzi, The President of KOIMIZANYA Cooperative.
His Royal Highness was shown the photos illustrating the changes in the landscape and comparing a prior soil with a nutrient-rich soil as result of sustainable agriculture practices and shift from artificial to organic fertiliser. HRH added gladly "That's why I went organic nearly 40 years ago," he said.
ARCOS Executive Director, Dr Sam Kanyamibwa, stressed that it is a high privilege for ARCOS to host His Royal Highness, Prince Charles. "The visit is a paramount to ARCOS as it serves as a good occasion to exchange with His Highness a subject, he has cherished all his life about the role of grassroot communities as custodians of our mother land in the journey to sustainability." Said Dr Sam. He added again that partnering with these communities leads to a recovery of our harmony with nature, which has increasingly been lost.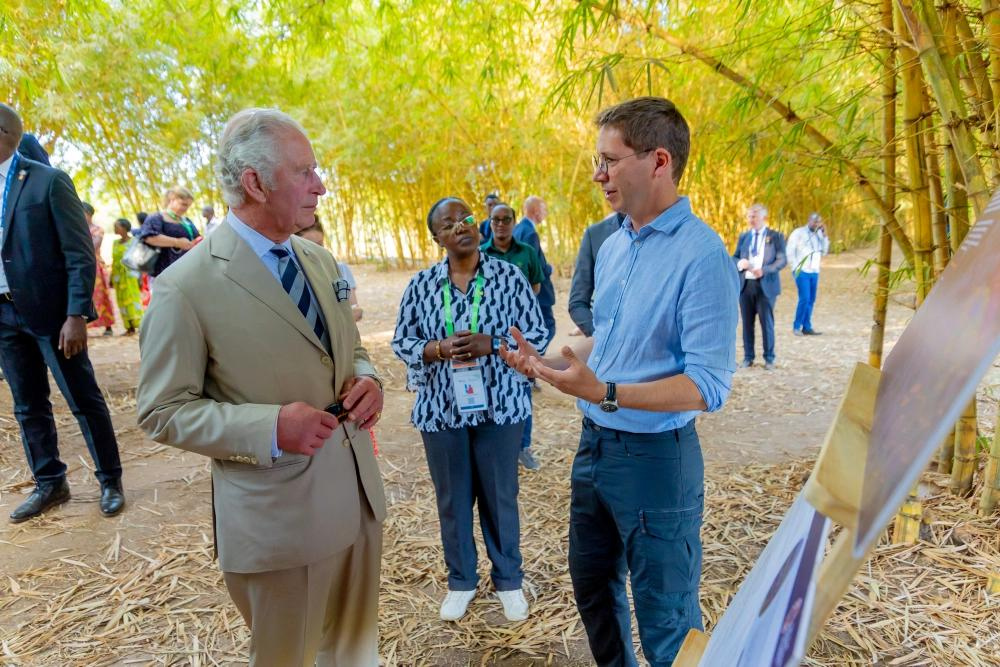 Mr Stephane Hallaire, President of Reforest'Action, briefing HRH about the new Living Lab initiative to be launched in Rwanda.
It should be noted that the visit was also graced by presence of Mr Stephane Hallaire, President of Reforest'Action and International Coordinator of Living Lab. "Reforest'Action and ARCOS are both members of the Circular Bioeconomy Alliance which is hosted by the European Forest Institute and we are partnering to create a Transboundary Regional Living Lab to enhance the resilience and adaptation of all mountain ecosystems and their communities in East Africa". This Living Lab in Western Mountain of Rwanda is the first phase of this ambitious initiative which will be scaled in the whole East Africa Mountain region in the near future". He added.
His Royal Highness The Prince of Wales commended ARCOS' work which promote a collective partnership with grassroot communities on the journey to enhance sustainable utilization of available natural resources and biodiversity conservation.