Recently a conference was held by the Albertine Rift Conservation Society (ARCOS) in collaboration with Karongi and Rutsiro districts, as they joined forces with the Government of Rwanda to celebrate World Environment Day. This momentous event was an integral part of ARCOS' ongoing efforts to strengthen the #BeatPlasticPollution campaign within the Living Lakes Project Area, with a particular focus on Lake Kivu.
On June 7th, 2023, over 50 attendees, including experts, researchers, policymakers, local community members, conservation NGOs, and representatives from the private sector, gathered at the conference on climate change, biodiversity, sustainable fishing, watershed management, and sustainable business solutions. The primary objective was to raise awareness of the Living Lake Biodiversity and Climate Project, which aims to safeguard Lake Kivu and its surrounding ecosystem while providing sustainable solutions to climate change.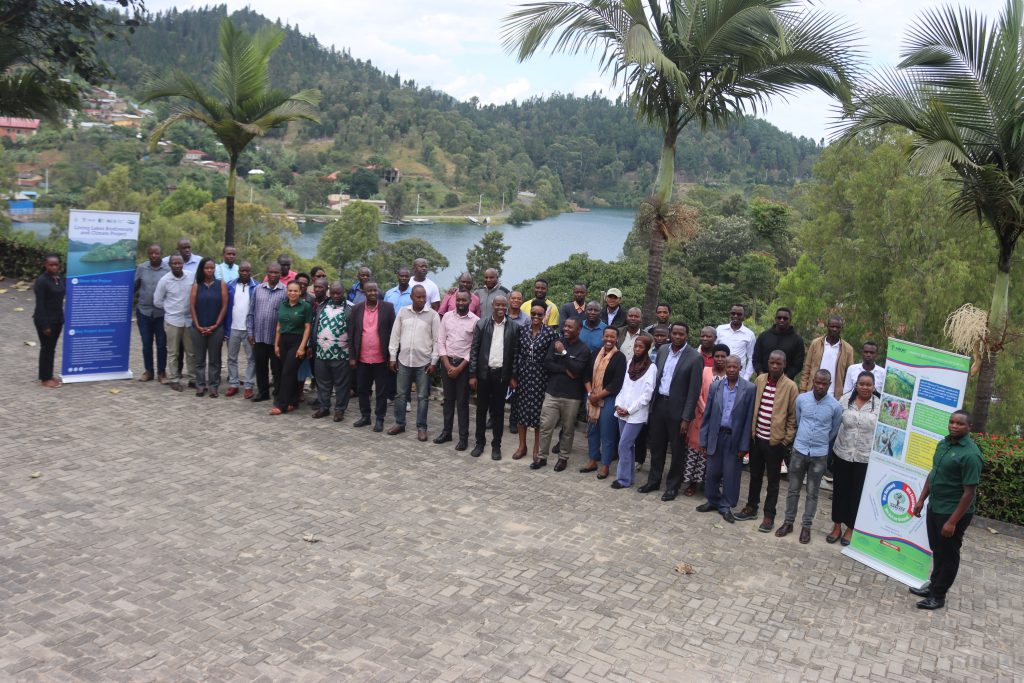 One of the key issues discussed during the conference was the urgent need to address plastic pollution. Participants engaged with stakeholders, including fishermen, farmers, and water users, in lively discussions on sustainable solutions to combat the detrimental impact of plastic waste. Recognizing the significance of World Environment Day, which had been celebrated just two days prior on June 5th, the conference aimed to foster collaboration and empower communities to take concrete actions in the fight against plastic pollution.
Distinguished presenters from various organizations, including the Rwanda Environment Management Authority (REMA), the Rwanda Water Resources Board (RWB), ENVIROSERVE Rwanda Green Park Company, and ARCOS, provided invaluable insights. Additionally, Vice Mayors in charge of Economic affairs from Karongi and Rutsiro districts delivered key remarks, emphasizing the importance of collective efforts in preserving the lakes, wetlands, and the planet as a whole. Representatives from the University of Rwanda, Rwanda Agriculture and Animal Resources Board (RAB), and local farmers and fishermen cooperatives also contributed their expertise and perspectives.
Rushema Emmanuel, the State of Environment Officer at REMA, lauded Rwanda as a pioneer in plastic waste prevention within Africa. He highlighted Rwanda's commendable initiatives, such as the ban on non-biodegradable polythene bags since 2004, which have been instrumental in maintaining a clean and healthy environment.
Rwanda Water Board representatives Darlene Ishimwe Gasaro who is a Land Husbandry Officer and Theophile Ngabonziza, Water Regulation Specialist stressed the need for landscape restoration for most of the water catchments. "Some measures involve mostly terracing, afforestation, agroforestry and gully rehabilitation for land husbandry and erosion control". In their presentation which focused on Lake Kivu Catchment Management plan and water permitting, they highlighted the need to coordinate activities on the district level for the implementation of some projects especially those that are in the same area.
In his presentation, Dr Robert Gatare who is in charge of aquaculture and fisheries in the western province at Rwanda Agriculture Board stressed that to enhance the overall sustainability and efficiency of fish farming, adopting modern practices such as aquaponics and vermiculture is recommended. "These methods integrate fish farming with plant cultivation and organic waste management, providing a holistic and environmentally friendly approach". He said. Ongoing capacity-building initiatives for farmers and fish cooperatives will also play a vital role in enhancing their skills and knowledge. He added that the implementation of comprehensive aquaculture regulations and development schemes is crucial. These policies should go beyond the farm level and consider factors such as carrying capacity studies for water bodies to prevent overloading and ensure sustainable practices.
Furthermore, Mihigo Felix, the Operation Manager of ENVIROSERVE Rwanda Green Park Company, shed light on the alarming global issue of electronic waste generation, posing a significant threat to human life. He also shared remarkable statistics, revealing that over 1,080 tons of PET had already been collected in Rwanda, with numerous collection points established nationwide, including in each district of Kigali City.
Motivated by the progress made in Rwanda, ARCOS has endeavoured to align its efforts with those of the Government. The organization aims to raise awareness of the detrimental impact of plastics and non-biodegradable waste, particularly in Lake Kivu and its catchment area, in order to preserve the biodiversity of this remarkable ecosystem. Mrs Jacqueline Ntukamazina, the Director of Business Development and External Relations at ARCOS Network, highlighted that plastic waste poses a significant threat to the water quality and biodiversity of Lake Kivu. Therefore, the conference theme aptly responded to the objectives of the Living Lakes Biodiversity and Climate Project.
Situated in an area experiencing rapid development, especially in tourism, and where the use of plastic remains prevalent, ARCOS seized the opportunity to encourage partners to take immediate action against plastic waste. The ultimate aim is to safeguard Lake Kivu and its surrounding catchment, while also extending an invitation to others to join the Living Lakes Network membership.