30,000 Small Holder Farmers in Rulindo and Bugesera Districts are Partnering with ARCOS to improve their Livelihoods through Agroforestry
More than 6 million trees (including agroforestry, fruits and woodlots as well as indigenous species) will be planted on 15, 209 ha, and 3 million tons of carbon dioxide (CO2) will be sequestrated for 20 years. At least 120,000 people and 30,000 households will benefit from the project, with 60% of the project beneficiaries being women and youth 5,000 green jobs will be created and around 1,000 grassroots community groups named Friends of Nature for sustainable livelihoods and development will be established and operationalized.
The Albertine Rift Conservation Society (ARCOS Network) is implementing a 20-year project known as "Agroforestry for Livelihoods" aimed to improve the well-being of the citizens in Rulindo and Bugesera District.
The launch of the project took place in Karambo Cell, Ngoma Sector in Rulindo District and in Nyagihunika Cell, Musenyi sector in Bugesera District on October 28 and 30, 2020 respectively.
Under the theme "Agroforestry: a pillar of effective agriculture and sustainable community livelihoods and development". In the process of planting agroforestry trees, the Minister of Environment, represented by the Director General of the Rwanda Forestry Authority (RFA), Mr. Jean Pierre Mugabo, has officially launched the Agroforestry for Livelihoods Project in Rwanda.
In Karambo, a total of 3898 agroforestry trees including 215 indigenous species (Mitragyna=Umuzibaziba; Markhamia=Umusave and Ficus=Umuvumu) were planted on 19,5 ha. And in Nyagihunika, a total of 3183 agroforestry trees including 180 indigenous species were planted on 15 ha. This is the part of total project target to plant 6 million trees on 15,209 ha in Rulindo and Bugesera Districts over next the 4 years.
The project will also contribute to combating air pollution where approximately 3 million tons of carbon dioxide (CO2) are expected to be sequestered by planted and well-maintained trees and through sustainable agricultural practices over the period of 20 years, starting from January 2020.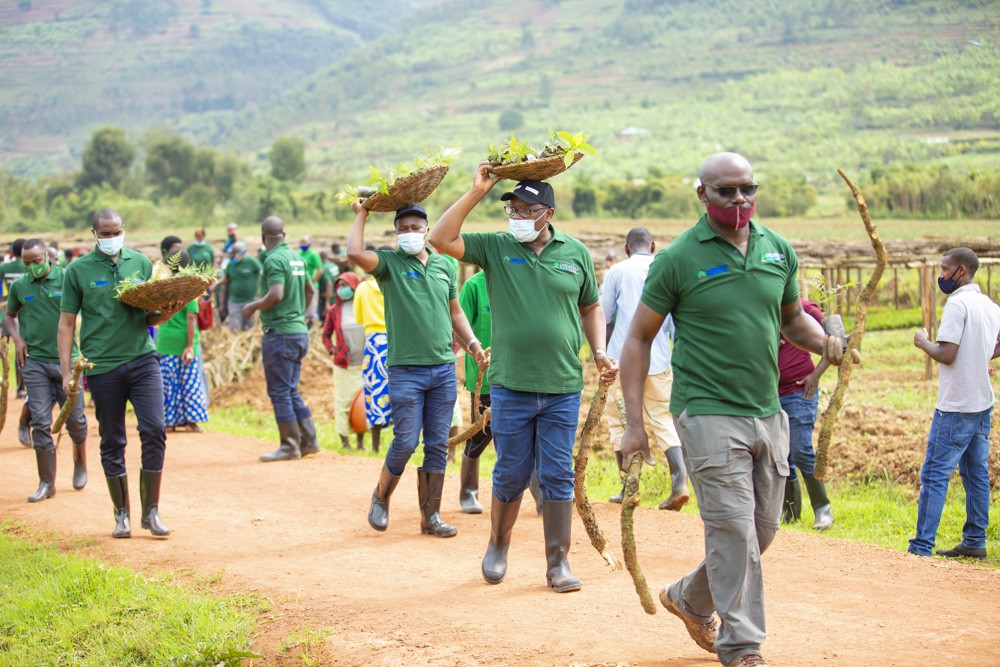 This project is implemented by the Albertine Rift Conservation Society (ARCOS Network) in collaboration with the Ministry of Environment (MoE) through its agencies Rwanda Forestry Authority (RFA) and Rwanda Environment Management Authority (REMA), Rulindo and Bugesera Districts and other partners from private sectors and civil society as well as smallholder farmers from project areas of intervention. The main goal of this project is to build resilient ecosystems for carbon sequestration and to empower a network of community groups as champions of change for inclusive and sustainable livelihoods. The project is funded by the Livelihoods Funds.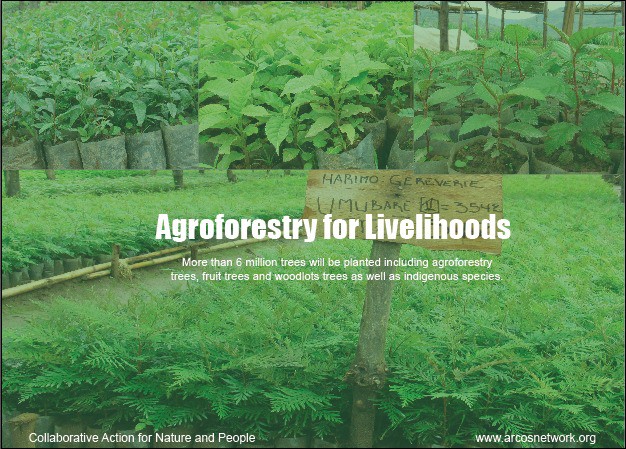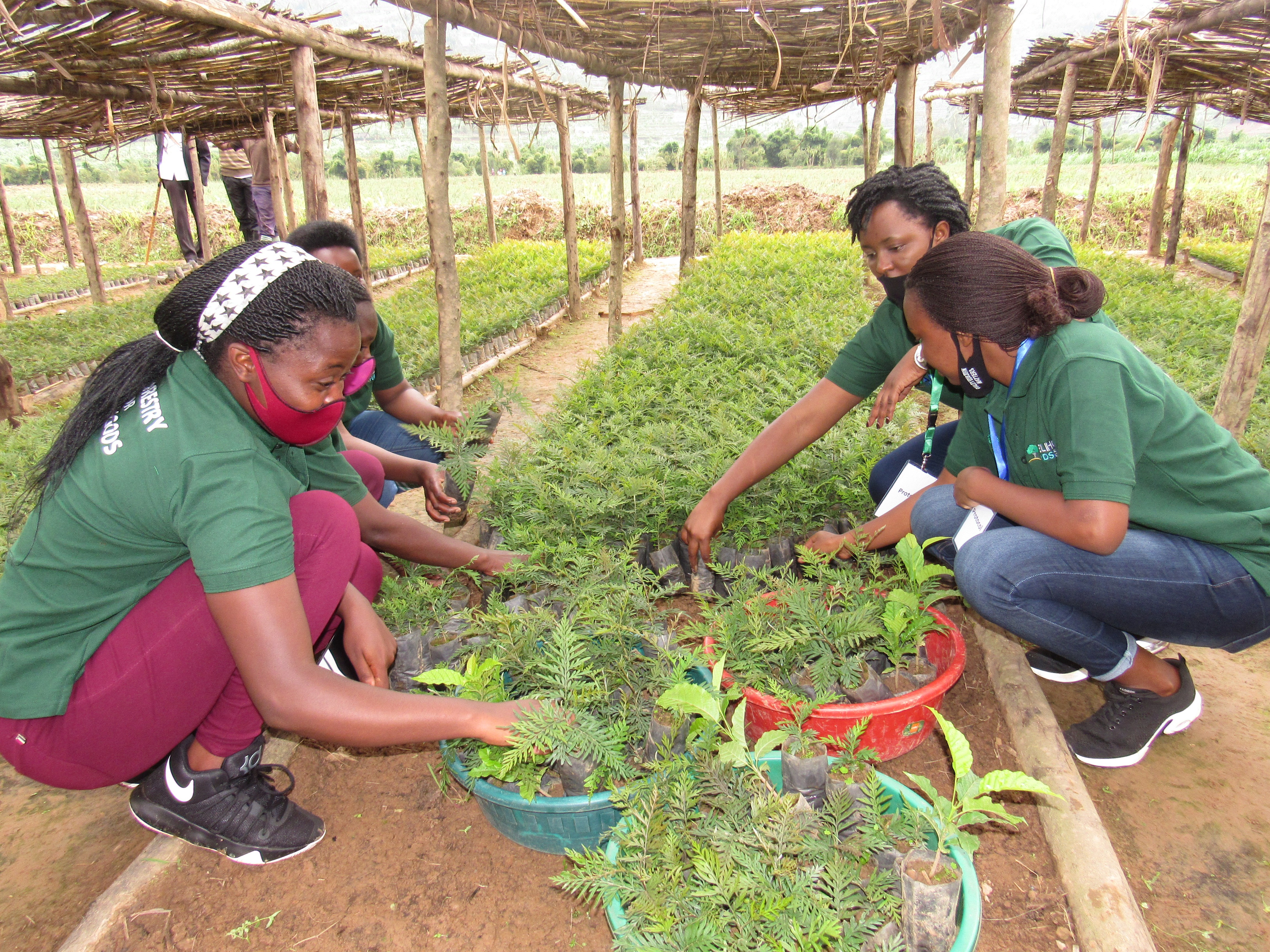 Around 120,000 people and 30,000 households will benefit from project and more than 5,000 jobs will be created, especially those related to environmental protection. 60% of the beneficiaries of this project are women and youth. More than 1,000 small groups of farmers will be set up and empowered as vector for sustainable ecosystem management and community development.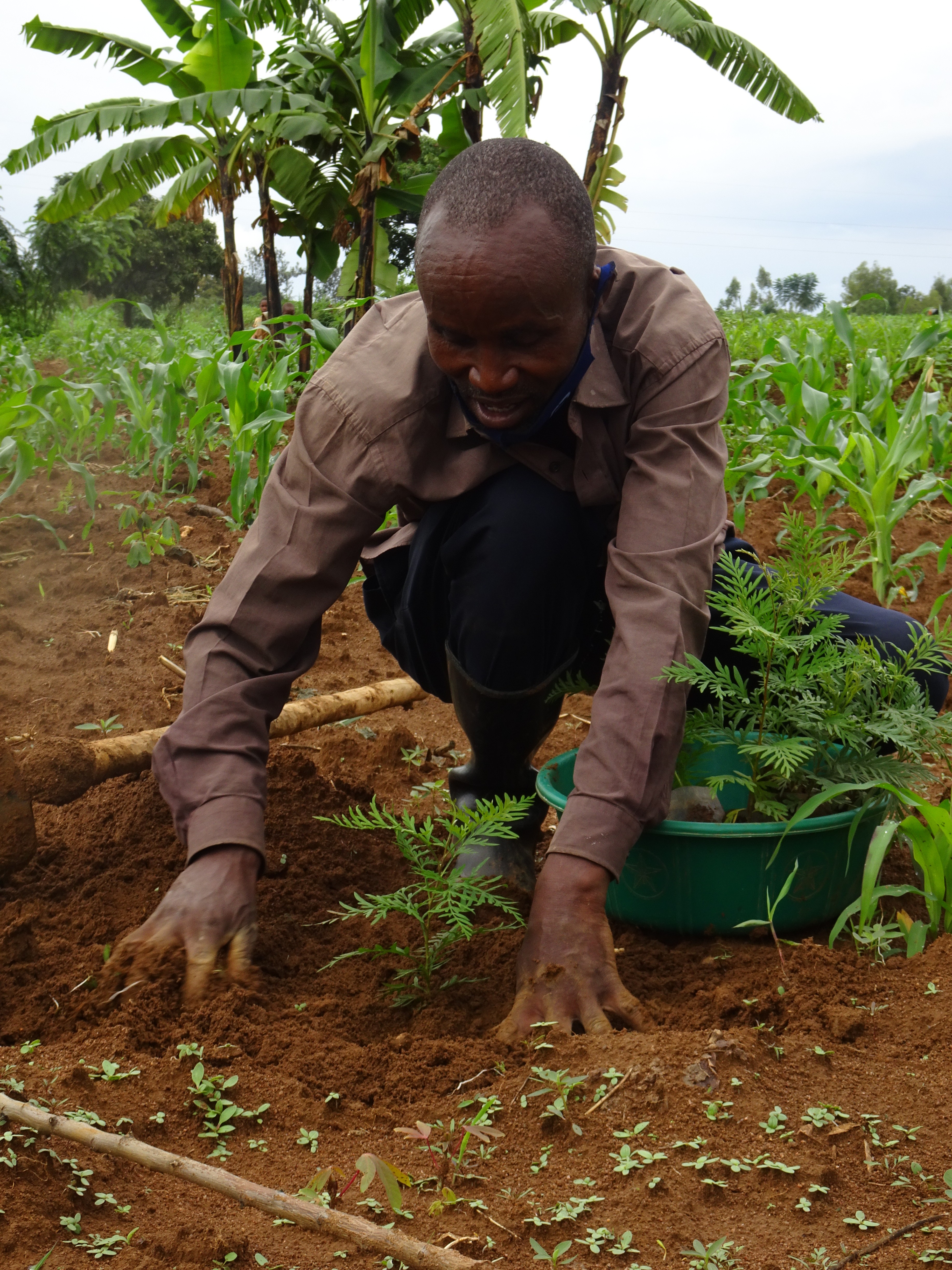 Communities appreciate and are happy to be part of the project activities including capacity building and sustainable agriculture and land management, tree planting and other livelihoods initiative.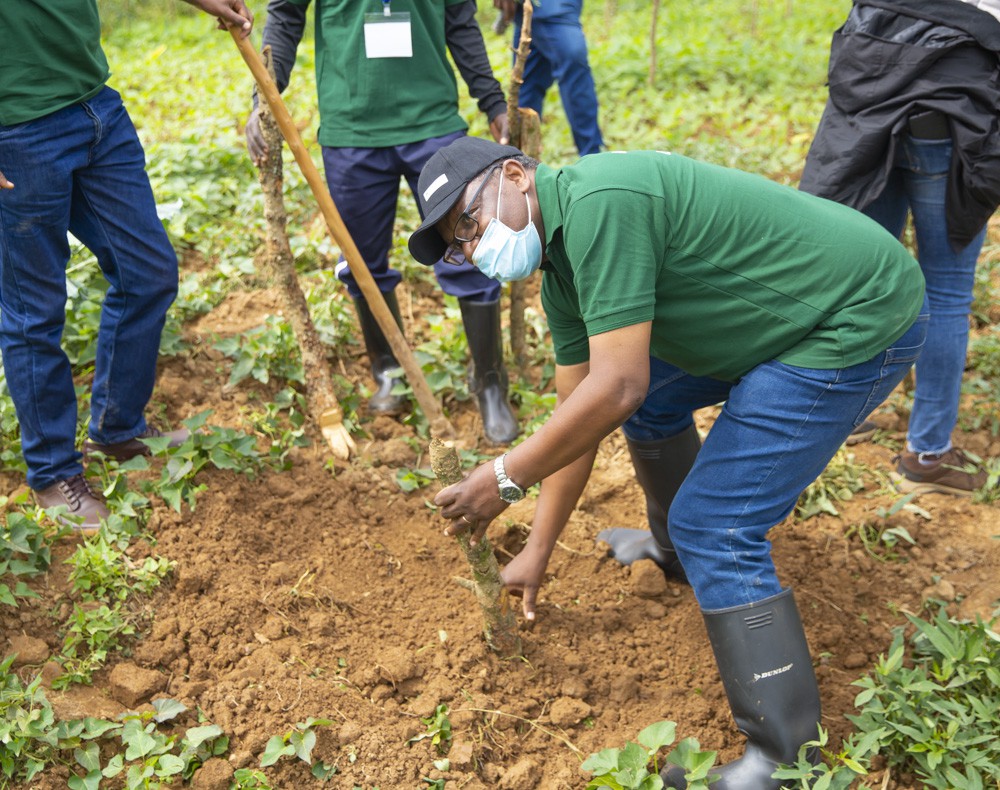 According to Dr. Kanyamibwa Sam, the Executive Director of ARCOS Network, this project is part of the process to build resilience to climate change, starting from project's focal landscapes. In this regard, the trees planted should be well maintained for a long time. "All the efforts made today would be in vain if the planted trees were to be cut down tomorrow. The ownership and full participation of farmers is key towards success and sustainability of the project". He said.
Speaking of when and how these trees will be harvested, he said: "This project will take 20 years, yet it does not mean that the tree cannot be harvested within that period. We will organise farmers into groups, train them in tree management practices and link them with buyers to make sure that the planted trees are given fair market value when comes the due harvesting time, then plant new trees.
Dr. Kanyamibwa said a diversity of tree species will be planted, including agroforestry, fruit, woodlot and indigenous species. All these trees are needed to enhance environmental resilience and meet different community needs such as erosion control, soil fertility restoration, food, fodder, stakes for climbing beans, construction materials, etc.
On behalf of ARCOS Network, he commended the farmers from Rulindo and Bugesera Districts for their dedication and sincere collaboration in project implementation. He also thanked the Government of Rwanda and all stakeholders for their commitment to join efforts to ensure project success and sustainability.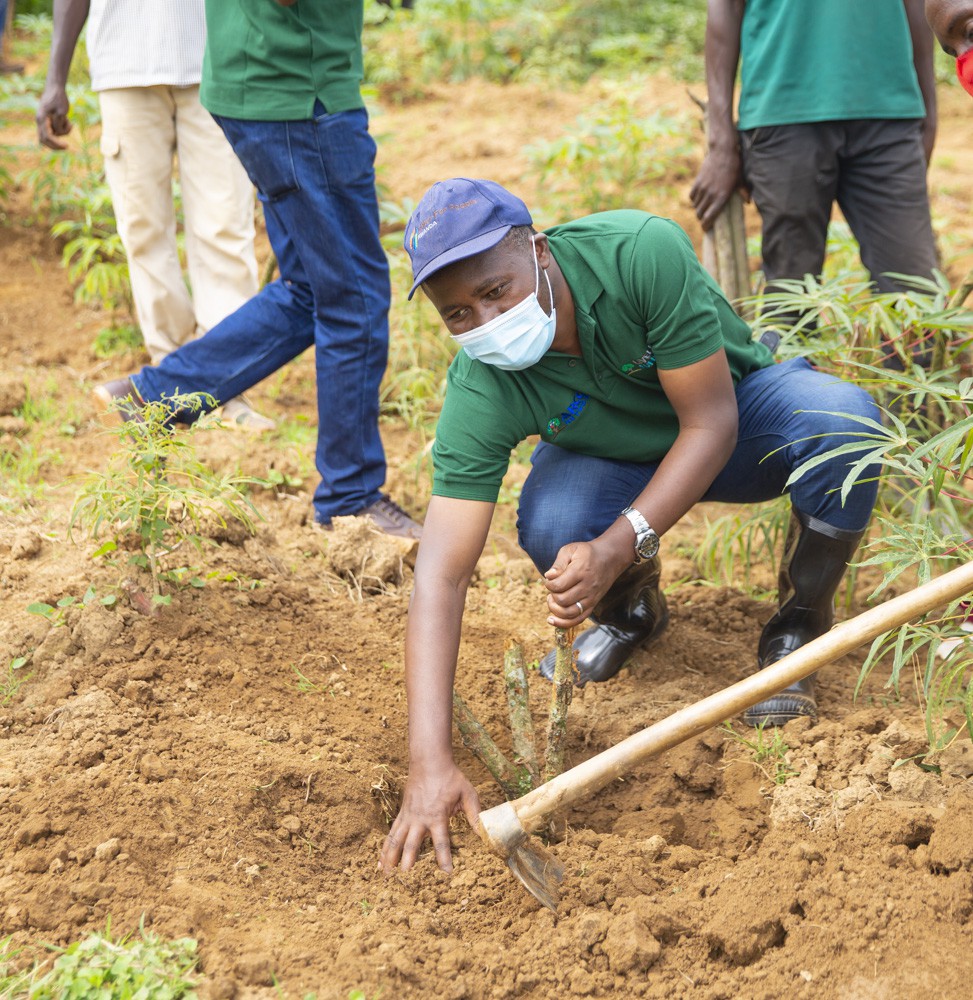 During this event, the Authorities from both Rulindo and Bugesera districts highly appreciated the above-mentioned project interventions and they urged smallholder farmers who are part of the project to well maintain the planted trees until their maturity, as well as ensure sustainability of other projects' achievements. They committed good collaboration to ensure successful project implementation and sustainability.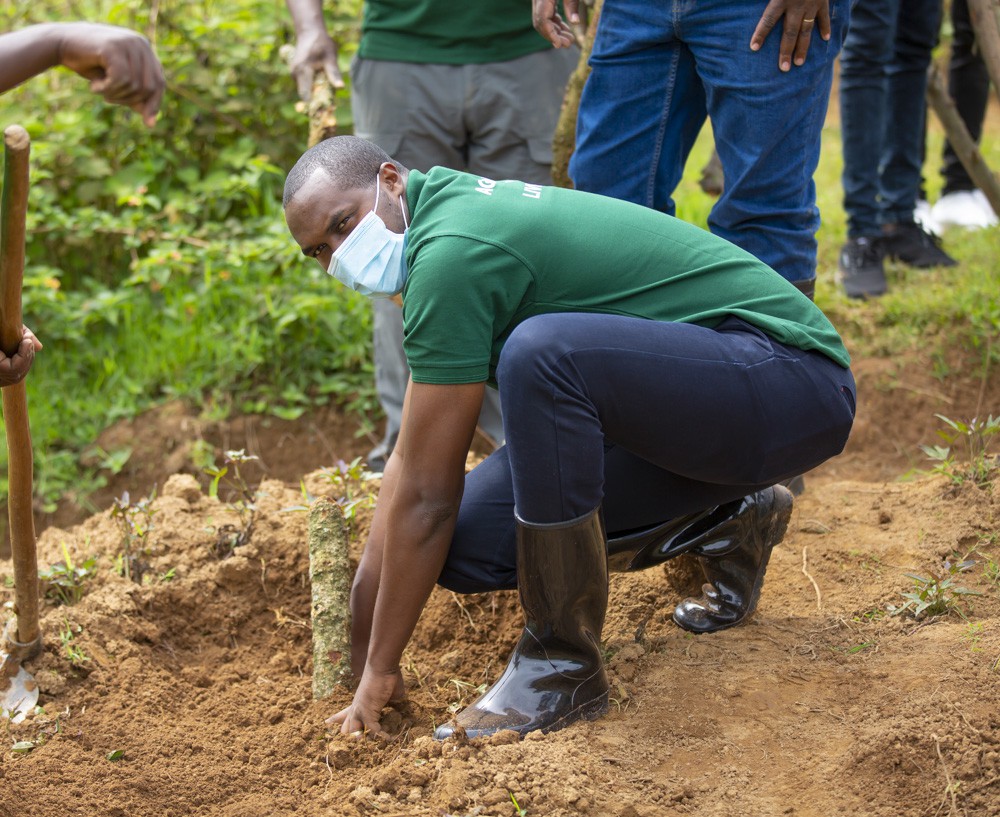 As embedded in this year theme "forest for community livelihoods and sustainable development", Mr. Jean Pierre Mugabo, Director General of the Rwanda Forestry Authority (RFA), recalled that agroforestry is a national program and that this project is a great opportunity for the country. "The project was jointly developed, and it is being jointly implemented by ARCOS Network, RFA and focal districts. Its success and sustainability is our duty. Farmers need to be well engaged and advised and again, this is our primary role" He said. Furthermore, he highly appreciated the inclusion of indigenous species that are disappearing in the landscapes of Rwanda among the trees to be planted.
He recalled the farmers to ensure the good timing of planting, while respecting the measures against the spread of COVID-19. Finally, He thanked ARCOS Network for its continued contribution to the national agenda in terms of agroforestry, environmental sustainability and community livelihoods enhancement.